Arctic Space Centre
Arctic Space Centre brings remote sensing data and services in every day and for every use.
The Finnish Meteorological Institute (FMI) provides first-hand information about the atmospheric, terrestrial and marine environments. Space-borne observations of the Earth play an important role, supporting research and operational activities within these core areas.
The Finnish Meteorological Institute´s Arctic Research Centre (FMI-ARC) hosts the National Satellite Data Centre (NSDC) focusing on fast delivery remote sensing product generation.  The National Satellite Data Centre, located north of the Arctic Circle in Sodankylä (67°22 N, 26°39 E) lies in an excellent location for receiving data from all polar orbiting spacecraft.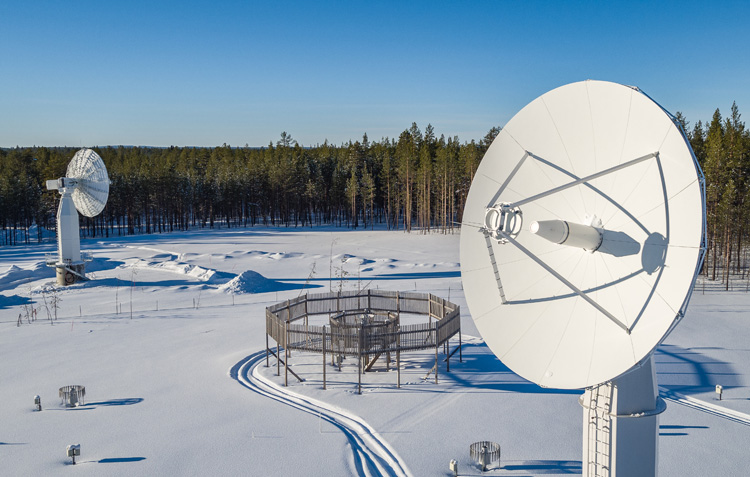 Sodankylä provides ideal facilities for versatile observations of arctic low temperature conditions. NSDC provides free and open data for national and international partners and customers. This includes the hosting of a Copernicus Sentinel Collaborative Ground Station for Sentinel satellite data distribution and archiving, cloud services through public private-partnership arrangements, and maintaining external processing chains in virtual environments.
The expertise of operating delicate technical systems and scientific instrumentation in the harsh Nordic environment is paramount and has been signatory for FMI over 100 years. The Sodankylä site has an extensive in-situ and ground-based remote sensing instrumentation enabling reliable satellite calibration and validation activities as well as related scientific research and technological development.
Arctic Space Centre utilises Earth Observation satellites
The Arctic Space Centre of the Finnish Meteorological Institute (FMI-ARC) is Finland's primary infrastructure for the utilisation, calibration and validation of data by Earth Observation (EO) satellites. This includes direct data reception from polar orbiting EO satellites, processing and archiving of satellite data products, and the housing of the satellite instrument's ground-based reference systems.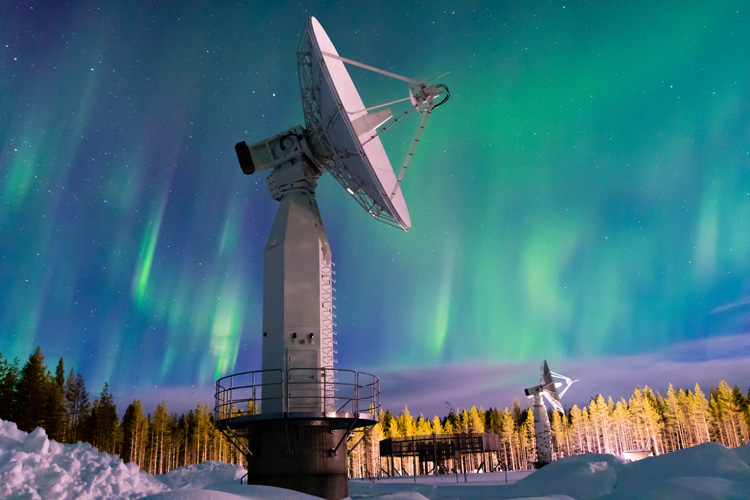 Operational units of FMI apply Arctic Space Centre's data and products for supporting sea ice navigation in the Baltic, air control e.g. in cases of volcanic eruptions, flood monitoring in spring time, and space weather services during solar storms.
The co-operative partners and funding agencies of FMI-ARC and NSDC include international space agencies (ESA, EUMETSAT, NASA, NOAA), European Union and national agencies and research institutes, such as the Finnish Environment Institute (SYKE).
Climate Change affects Arctic areas
In the Arctic areas the influence of climate change is being felt at a higher degree than elsewhere. Enabling a better understanding of the environment in region is now utmost importance.
Arctic Space Centre of the Finnish Meteorological Institute (FMI-ARC) in Sodankylä is an excellent base for studying various themes of global change in a northern context. Specific FMI-ARC research topics and products include:
• Snow cover monitoring (picture on right)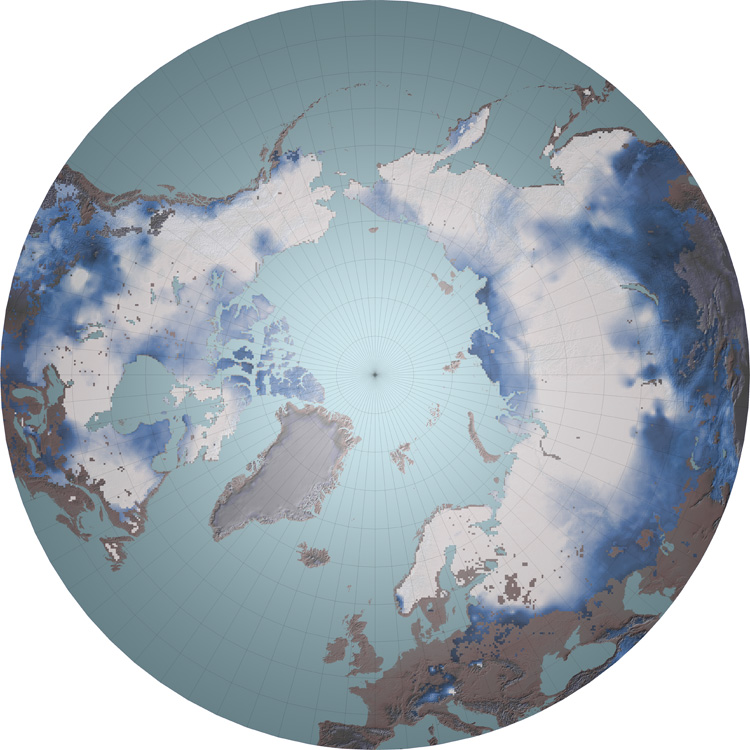 Snow extent and mass 19.2.2017. That tells hemispheric amount of snowon Earth based on satellite data. 
• Soil frost in northern hemisphere
• Sea ice applications of EO data.
• EO Satellite CAL-VAL assets in Sodankylä
• Auroras in Fennoscandia
• Flood monitoring
• Atmospheric monitoring (ozone or GHG)