Finnish Meteorological Institute - for the safety and smooth operation of the society
The Finnish Meteorological Institute makes observations and research on the atmosphere, the near space and the seas. It also provides services on weather, sea, air quality, climate and near space for the needs of public safety, business life and citizens. The Finnish Meteorological Institute is an administrative branch of the Ministry of Transport and Communications.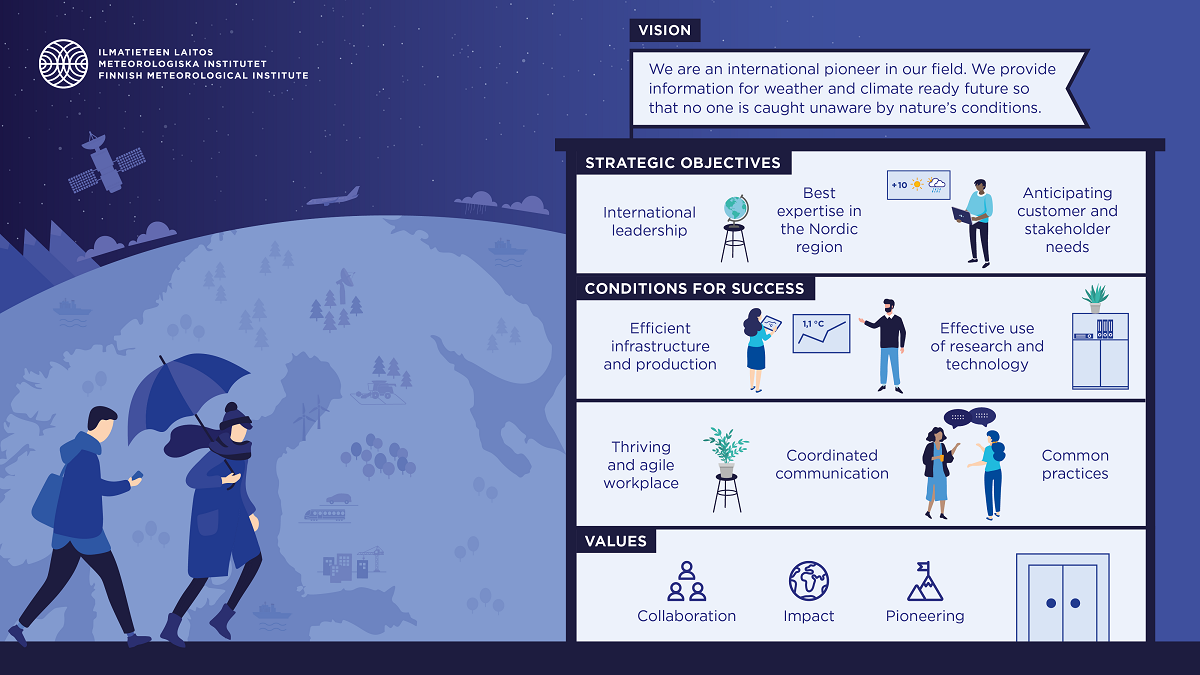 Vision
We are an international pioneer in our field. We provide information for weather and climate ready future so that no one is caught unaware by nature's conditions.
Strategic objectives
We are in a leading position in the international community in our field

Together with our partners, we produce the best in the North and increasingly versatile information on nature's conditions

We anticipate the changing needs of our customers and other stakeholders in our operations
Conditions for success
We are a healthy, agile workplace that develops the skills of our personnel

Our infrastructure and production are efficient, competitive and impactful

We will use insightfully and systematically research information and the latest technology in our services

We communicate interactively and systematically in our work community and to our stakeholders

Common practices ensure high-quality, transparent and fair operations
Values
Collaboration We promote cooperation and a strong collaborative spirit in everything we do.
Impact We produce information and service that have the power to change the world.
Pioneering We strive to be leaders in the international community by working towards common goals.