Daily observations in 1km*1km grid
Interpolation
Daily weather station observations have been interpolated into 1km*1km grid using external predictors (e.g., elevation) as covariates (kriging with external drift KED).
Reference: New gridded daily climatology of Finland: Permutation-based uncertainty estimates and temporal trends in climate by Juha Aalto, Pentti Pirinen & Kirsti Jylhä; JGR Atmospheres 07 Apr 2016 (https://agupubs.onlinelibrary.wiley.com/doi/abs/10.1002/2015JD024651)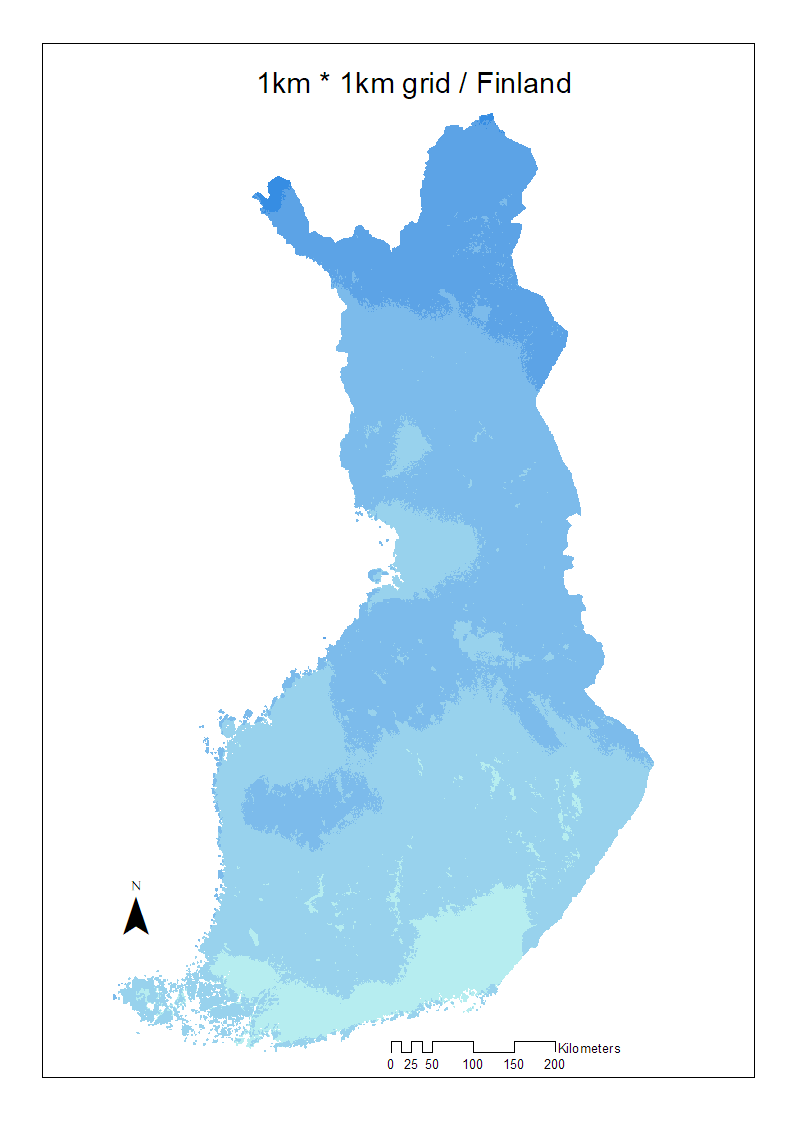 Content
Horizontal resolution 1.0 km.
Projection: epsg:3067 (ETRS89 / TM35FIN(E,N) – Finland)
Data
Daily data is in annual netcdf files. The files are produced by R:s Raster package.
Data will be updated once a year until Jan 2022 and after 8.2.2022 once a month (day number 8 each month)
| | | | |
| --- | --- | --- | --- |
| Globrad | Global radiation sum | kJ/m2 | |
| Psea | Sea level air pressure | hPa | |
| RRday | Daily precipitation sum | mm | Value for today: From 06 UTC today to 06UTC tomorrow |
| Rh | Relative humidity | % | Daily mean 00UTC, 03UTC,…, 18UTC, 21UTC |
| Snow | Snow depth | cm | Snow depth at 06 UTC |
| Tday | Daily mean temp. | ℃ | Daily mean 00UTC, 03UTC,…, 18UTC, 21UTC |
| Tmax | Daily maximum temp. | ℃ | Value for today: max from 06 UTC today to 06UTC tomorrow |
| Tmin | Daily minimum temp | ℃ | Value for today: min from 06 UTC today to 06UTC tomorrow |
| Tgmin | Min temp near ground | ℃ | Value for today: min from 18 UTC yesterday to 06UTC today. |