Small-scale wood combustion worsens air quality in Nordic cities
Small-scale wood combustion has significant effects on the concentrations of fine particulate matter in ambient air, and on the health of the populations in Nordic cities. In Oslo, for example, small-scale wood combustion can account for as much as 30-60 % of airborne fine particles. In Helsinki, the combustion of wood in residential stoves and fireplaces causes a maximum of 15 per cent of the concentrations of fine particles on an annual basis.
The study investigated how small-scale wood combustion affects the concentrations of fine particles in outdoor air in Helsinki, Oslo, Copenhagen and Umeå. The share of fine particles from wood combustion was clearly the highest in Oslo: 30–60% in central urban areas. The share of small-scale combustion was second largest in Umeå (8–22%), then in Copenhagen (0–20%). In Helsinki, the share of wood combustion in fine particles varied regionally from small values ​​to a maximum of 15 percent.
For the first time, the study systematically investigated the effects of small-scale combustion on fine particle concentrations in different Nordic cities. Small-scale combustion is the largest domestic source of fine particles in Finland. Previous studies by the Finnish Meteorological Institute, SYKE and THL have found that small-scale wood combustion causes about 200 premature deaths in Finland each year. * In total, air pollution is estimated to cause about 2,000 premature deaths in Finland each year.
Wood is burned and concentrations are regulated in different ways in Nordic cities
The uses of wood combustion varied considerably in the cities studied. In Helsinki and Copenhagen, wood combustion is most common in suburban areas, for heating detached houses. In Oslo, wood combustion is also common in the central areas of the city, where wood is also used to heat larger residential buildings. In Umeå, wood is combusted both in the city center and outside it.
In the Nordic countries, attempts have been made to manage the harmful effects of wood combustion in various ways: through information campaigns, financial incentives and administrative measures. In Denmark and Norway, for example, good results have been achieved by introducing financial incentives to replace old stoves and fireplaces with new, cleaner equipment. In Sweden, efforts have been made to restrict wood combustion, for example by banning it altogether in certain areas or by banning so-called comfort use in the warm seasons. Information campaigns have been organized in all the countries studied to promote cleaner wood combustion.
The location of the city and other emission sources affect the concentrations of fine particles
Concentrations of fine particles, taking into account all emissions, were highest in Copenhagen, where concentrations ranged regionally from 9 to 13 µg/m3. Fine particulate matter concentrations were second highest in Oslo, next highest in Helsinki and lowest in Umeå. In Helsinki, the concentrations ranged from 6 to 10 µg/m3.
The higher fine particle values ​​in Copenhagen are mainly due to the fact that the city is located closer to the significant emission areas of Central and Eastern Europe, partly also from the city's other emission sources.
In the study, fine particulate emissions were both measured and modeled. The study investigated fine particle concentrations from 2011 (Umeå), 2013 (Helsinki and Oslo) and 2014 (Copenhagen). The study also took into account all other significant local sources of emissions and the regionally and long-range transported background pollution.
Further information:
Research Professor Jaakko Kukkonen, Finnish Meteorological Institute, tel. +358 50 520 2684, jaakko.kukkonen@fmi.fi
Head of Unit, Dr. Niko Karvosenoja, Finnish Environment Institute (SYKE), tel. +358 295 251 264, niko.karvosenoja@ymparisto.fi
Kukkonen, J., López-Aparicio, S., Segersson, D., Geels, C., Kangas, L., Kauhaniemi, M., Maragkidou, A., Jensen, A., Assmuth, T., Karppinen, A., Sofiev, M., Hellen, H., Riikonen, K., Nikmo, J., Kousa, A., Niemi, J. V., Karvosenoja, N., Santos, G. S., Sundvor, I., Im, U., Christensen, J. H., Nielsen, O.-K., Plejdrup, M. S., Nøjgaard, J. K., Omstedt, G., Andersson, C., Forsberg, B., and Brandt, J., 2020: The influence of residential wood combustion on the concentrations of PM2.5 in four Nordic cities, Atmos. Chem. Phys., 20, 4333–4365, 2020. https://doi.org/10.5194/acp-20-4333-2020.
The study was part of the Nordic project "Understanding the link between Air pollution and Distribution of related Health Impacts and Welfare in the Nordic countries" (NordicWelfAir), funded by Nordforsk. It was also part of the GLORIA and BATMAN projects funded by the Academy of Finland, and the SCAC project funded by the Swedish Environmental Protection Agency.
*Savolahti, M.; Lehtomäki, H.; Karvosenoja, N.; Paunu, V.-V.; Korhonen, A.; Kukkonen, J.; Kupiainen, K.; Kangas, L.; Karppinen, A.; Hänninen, O. Residential Wood Combustion in Finland: PM2.5 Emissions and Health Impacts with and without Abatement Measures. Int. J. Environ. Res. Public Health 2019, 16, 2920. https://doi.org/10.3390/ijerph16162920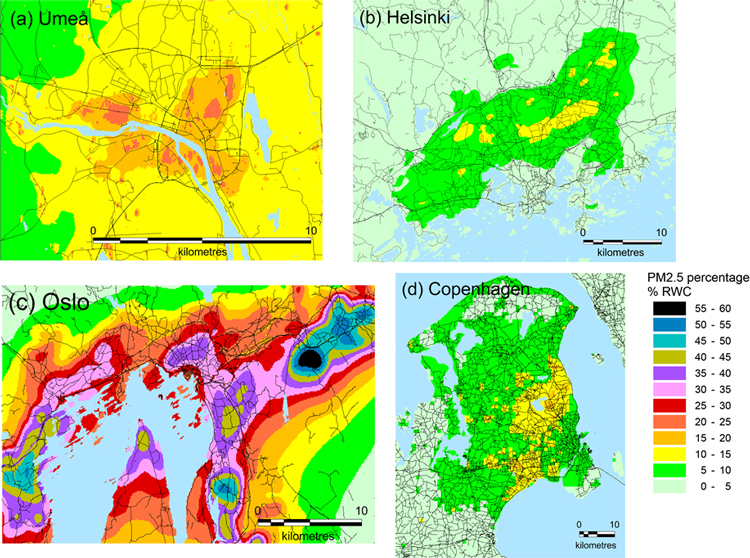 Proportion of wood burning in the concentrations of fine particles in four Nordic cities. The results have been modelled and correspond to 2011 (Umeå), 2013 (Helsinki and Oslo) and 2014 (Copenhagen). Source: Finnish Meteorological Institute. Map data: © OpenStreetMap Contributors 2019. Distributed under a Creative Commons BY-SA License.