New sea ice service gives information on the Baltic Sea landfast ice
Finnish Meteorological Institute (FMI) has developed a new sea ice service which gives information on the Baltic Sea landfast ice thickness and extent. This service can be utilized for recreational activities on sea ice and by governmental and local authorities in their duties.
The Baltic Sea is partly covered by ice in every winter season. Every winter landfast ice occurs along the coasts of Finland, Sweden, Estonia and Russia (Bay of Bothnia, Sea of Bothnia, Gulfs of Finland and Riga). In a severe winter it is also present in the Southern Baltic Sea, e.g. in the Danish straits.
FMI's new BALFI service (Baltic Sea landfast ice extent and thickness) gives information on the landfast ice extent and thickness, snow thickness on landfast ice, and deformation of landfast ice.
"In the new service the landfast ice extent and thickness is available at 500 m resolution. The service supplements FMI's Baltic Sea ice services", says Senior Scientist Marko Mäkynen at FMI.
The BALFI service gives information on the landfast ice for recreational activities such as skiing, snowmobiling and ice fishing. In addition, it can be used to investigate whether sea ice conditions are suitable for ice roads. Governmental and local authorities can utilize the service in management of icebreakers and ferries in archipelagos, search and rescue operations, and in monitoring of ice conditions in the harbours.
The landfast ice charts are produced daily during the Baltic Sea ice season which typically begins in November-December and ends in May. The charts are updated daily within the coverage of new SENTINEL-1 SAR imagery. Typically, the whole Baltic Sea is covered with new SAR imagery during one day.
The landfast ice charts cover the Baltic Sea with 500 m pixel size. They are in the same Mercator projection used by the FMI's Ice Service in various products.
"In the new ice service portal the charts can be visualized and zoomed. The portal can also be used with mobile phones. The charts can be downloaded as GeoTiff-files", says Mäkynen.
The users of the landfast ice charts are asked to bear in mind that ice conditions may change rapidly due to changes in weather conditions or in sea state. The charts cannot foresee any such changes. The users are also asked to consider that there are other conditions that can hamper or prevent safe travel on the sea ice, like shipping lanes, poor visibility or deep snow.
The ice charts of the BALFI service are based on EU Copernicus Marine Environment Monitoring Service (CMEMS) products, SENTINEL-1 SAR imagery, and FMI's sea ice thermodynamic sea ice model. The BALFI service was developed at FMI in 2017–2019 within the CMEMS User Uptake programme funded by Mercator Ocean. The BALFI service will be maintained at least until June 2021. The BALFI is a demonstration level service which will be further developed when needed.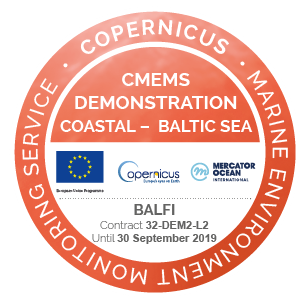 More information:
Senior Scientist Marko Mäkynen, Finnish Meteorological Institute, tel. +358 50 568 7758, marko.makynen@fmi.fiIce Expert Patrick Eriksson, Oceanographic Services / Finnish Meteorological Institute, tel. +358 50 535 0712, patrick.eriksson@fmi.fi
BALFI-portalFurther information about the service and products