Environmental dictionary extended with a meteorological dictionary
20.3.2009 15:15
Environmental dictionary Endic, since 2006 available on the internet, has now been extended with the meteorological dictionary MetDic. The MetDic is based on the printed dictionary Ilmatieteellinen Käsitesanakirja which was published in 1995 by the Finnish Meteorological Institute. MetDic contains 9000 terms in Finnish, Swedish and English.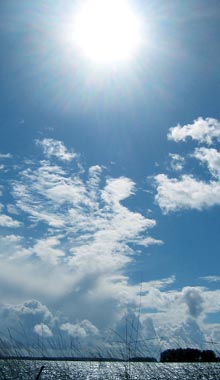 The Endic contains now altogether 90 000 searchwords in various languages and 2000 definitions in English, Estonian, and Finnish.
The new EnDic displays simultaneously the entries of the two specialized dictionaries. This is an advantage, even if the equivalent terms are usually identical. The different approaches can be seen in some entries, e.g. in the equivalents of 'clear ice'.
Example of a search result using the searchword 'clear ice':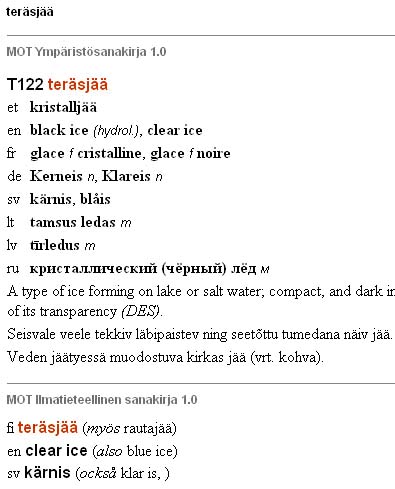 The electronic version Environmental Dictionary EnDic was published in 2006. It contains a wide spectrum of environmental terms from various fields of environmental protection and nature conversation. Meteorology, hydrology, water supply and wastewater technology, environmental technology and the environmental policy of EU are examples of the fields covered by the dictionary. The roots of EnDic go back to the 1980s. The first version, a water protection dictionary (Vesiensuojelun sanakirja) was published in 1988.
EnDic is a useful tool for scientists, students, translators and others whose work has an international dimension. The electronic MOT® dictionary version has been produced in cooperation with Kielikone Oy.
More information:
Ms Elisa Paavilainen, head of information Services, Finnish Environment Institute SYKE, elisa.paavilainen@ymparisto.fi , tel. 0400 663 229
Mr Esko Puheloinen, chief inspector, Finnish Meteorological Institute, esko.puheloinen@fmi.fi , tel. (09) 1929 2352
Mr Timo Vilpponen, sales director, Kielikone Oy,
timo.vilpponen@kielikone.fi , tel. (09) 6129 9350