Marine Research in Finland reorganized as of 1 January 2009
31.12.2008 12:00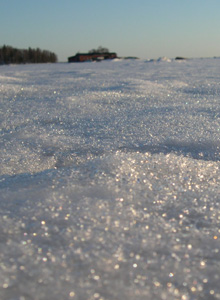 Photo: Anneli Nordlund
The reorganization of marine research in Finland was implemented at the turn of the year. As of 1 January 2009 the activities of the Finnish Institute of Marine Research are continued by the Finnish Environment Institute and the Finnish Meteorological Institute.
Some 50 marine scientists will work at the Finnish Meteorological institute (FMI). Their field is physical marine research and sea monitoring. FMI will be responsible for marine security services like the ice and waves services, and sea level monitoring and prognoses. Within the administrative unit for research, three groups will be established: Ice research and Ice Service, Waves and Sea Level, and Hydrodynamics of the Sea.
FMI will also be responsible for the logistics of the Finnish Antarctic Programme (FINNARP) and for marine technological services that will be placed into the administrative unit Observation Services.
The new Marine Centre at SYKE will be responsible for research on issues like the status of the Baltic Sea and its changes, eutrophication, marine biodiversity, and invasive species. The present marine research of SYKE and the research that FIMR has carried out in this field will continue within the new organization.
There will be three research programmes at the Marine Centre. They will focus on the status of the marine environment, the function of marine ecosystems, and marine ecology and biodiversity. The activities of the research vessel Aranda will be coordinated by the Marine Centre at SYKE. Almost 60 research scientists from the Finnish Institute of Marine Research and some 30 from the Research Programme for the Protection of the Baltic Sea will work at the Marine Centre. The number of marine researchers within the new organization will thus be around 90.
The Baltic Sea Portal will be reorganized
The Baltic Sea Portal will in the future be maintained jointly by the Finnish Environment Institute, the Ministry of the Environment and the Finnish Meteorological Institute. The portal will be reorganized during spring 2009. The portal will continue to give comprehensive and updated information on the sea, on its condition, on marine research and on current research projects. The address of the portal is www.itameriportaali.fi.
SYKE and FMI will continue their good cooperation
The Finnish Meteorological Institute and the Finnish Environment Institute have a long history of good operation and it will now also continue within the field of marine research.
"We must without prejudices develop our cooperation on a broad basis. Only through cooperation we can ensure that our research will produce the high-quality information the decision-makers need when they deal with the issues of the protection of the Baltic Sea", say the general directors Lea Kauppi and Petteri Taalas.