Cassini Spacecraft Images Seas on Saturn's Moon Titan
14.3.2007 12:00
The RADAR instrument on board NASA's CASSINI spacecraft has found evidence for seas close to the north pole of Saturn's moon Titan. The images show several dark features measuring at least 100 000 square kilometers which seem to be very smooth, indicating the presence of a large body of liquid. While there is yet no definitive proof, scientists of the instrument teams believe that the images show a large lake filled with liquid methane and ethane. With an extension of more than 1000 km it is larger than any lake on Earth.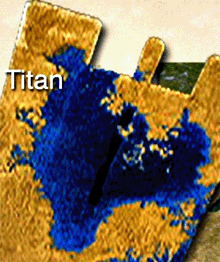 Image: NASA/JPL/GSFC
CASSINI's visual and infrared mapping spectrometer also captured a view of the region, and the team is working to determine the composition of the material contained within these features to tests the hypothesis that they are liquid-filled. More evidence will be collected during the spacecraft's next flyover in May.
The spacecraft carried the European entry probe Huygens to Titan where it landed successfully on January 14, 2005. The pressure sensors on board Huygens were provided by FMI and measured for the first time an atmosphere pressure profile in great detail outside the Earth atmosphere.
The Cassini-mission is a cooperative project of NASA, the European Space Agency and the Italian Space Agency.
Read more:
about Cassini/Huygens
NASA News
Further information:
Walter Schmidt, tel. (09) 1929 4658 Walter.Schmidt@fmi.fi
Ari-Matti Harri, gsm 050 337 5623 ari-matti.harri@fmi.fi