Dynamicum building inaugurated
8.11.2005 12:00
On Tuesday, 8 November 2005, President Tarja Halonen inaugurated the new building of the Finnish Meteorological Institute (FMI) and the Finnish Institute of Maritime Research (FIMR) on the University of Helsinki's Kumpula Campus. The goal of the building's architecture is to follow the concept of life span.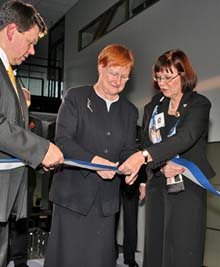 FMI's Director General Petteri Taalas, President Tarja Halonen and FIMR's Director General Eeva-Liisa Poutanen. Photo: Antonin Halas.
In her speech on the occasion of the dedication of Dynamicum, the new home of the Finnish Meteorological Institute and the Finnish Institute of Marine Research, President Halonen brought out the long tradition of research and service, and the international flavour of both institutes. She also emphasised the necessity of combining basic research, applications, and commercialisation. Both institutes have important roles to play, both on a national level and on an international level, as the impact of mankind on the environment increases. She wished the institutes and their personnel good luck in their new home.
Traffic and Communications Minister Susanna Huovinen also spoke, stressing the importance of high-quality research to the government's programmes for developing Finland's competitiveness and for dealing with issues of climate change and its accommodation, water level measurements and predictions, fluctuations of ice cover, and the implications of air quality for health. "Research results are utilised as aids to political decisions and for high quality services for the economy and citizens' needs, particularly for improvements of traffic safety." Minister Huovinen emphasised.
In addition to President Halonen and Minister Huovinen, greetings and compliments were presented by Secretary General Michel Jarraud of the World Meteorological Organisation (WMO) and Chairman David T. Pugh of the Intergovernmental Oceanographic Commission (IOC). In particular, WMO's Director General Jarraud pointed out Finland's and FMI's crucial role as an important player in the development of joint meteorological programmes.
Also participating in the ribbon-cutting ceremony were Helsinki's Vice-Mayor Pekka Korpinen, Reino Hanhinen of YIT Concern, representing the constructors, and Aulis Kohvakka of Senate Properties, representing the developer.
Dynamicum houses the facilities for FMI and FIMR to carry out their respective research roles, as well as to provide high quality oceanographic and meteorological services to agencies, industry, companies and private citizens.
Kumpula, a natural sciences centre of expertise
FMI's Director General, Petteri Taalas, reminded the audience that particularly in a small country like Finland, success at an international level requires centres of expertise that reach the required critical mass. Such a centre has now been formed at Kumpula.
"The cooperation between the University of Helsinki and FMI has been the vehicle for Finland's international success in atmospheric research. There are today nearly 1000 atmospheric, space, and geophysics researchers on the Kumpula campus." stated Taalas.
Cooperation between university and institute includes, among other things, joint professorships, joint Academy of Finland Centres of Excellence, as well as joint EU-funded experimental and theoretical projects.
FIMR's Director General Eeva-Liisa Poutanen pointed out that competition for funding gets more difficult every year. "Greater efficiency and growth in productivity are demanded of research institutes, too. Relocating our operation to the Kumpula Campus has created promising conditions for increased joint research, both with FMI and the University. Indeed, a tradition of cooperation has existed for many decades, but this sort of concentration of internationally significant expertise, where one institute's operation can directly support that of others, thus multiplying the research environment, creates completely new opportunities." noted Poutanen.
Poutanen stated that of particular importance from FIMR's point of view are the improvements in the new building's laboratory and research areas, in which one can now carry out both highly demanding analysis as well as experimental research. Such facilities enable relatively quick, laboratory-scale experiments in which the effects of environmental conditions such as light, temperature, and nourishment can be studied.
A building's life span taken into consideration in the design
Dynamicum was designed by architects Timo Vormala and Erkki Karonen of Gullichsen-Vormala Architects Ky. YIT Construction, Ltd was responsible for its construction. In practice, FMI and FIMR lease the building from Senate Properties. The usable floor area is just over 23 000 m2. Construction was started in the fall of 2003 and occupation began in September 2005.
The life span concept and energy economy were the starting points for the building's basic features. Life span capability means taking the building's whole life span into account in the design and the execution. Life span consideration's objectives in Dynamicum included, among other things, easy adaptation of space to changing needs and multiple uses, and effortless introduction of improvements in quality and durability.
"The finished building has now been in use for over a month and the responses we have received fulfil our expectations, both with respect to design and to execution." commented architect Erkki Karonen.
The entire text of President Halonen's speech is available (in Finnish) from the presidential office's website
Photos from the ceremony
For further information:
Eeva-Kaisa Heikura, Tel +358 9 1929 2230, eeva-kaisa.heikura@fmi.fi