Helsinki Mesoscale Testbed to be Launched
26.1.2005 12:00
The Finnish Meteorological Institute (FMI), Vaisala Oyj and partners have finalized plans to launch an advanced mesoscale weather observation network in the Greater Helsinki area in Finland. The Helsinki Testbed will promote the measurement and understanding of fine-scale weather phenomena, i.e. local weather.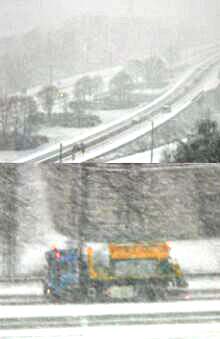 The photo presents an example of mesoscale weather phenomena: a heavy snowfall in Helsinki on 20th November, 2004. Local snowfalls in the coastal area resulted from high sea temperature in relation to ground temperature. The snowfalls caused a need for immediate street maintenance operations.
The Helsinki Testbed project concentrates on small-scale weather observation and forecast networks in high-latitude conditions. Of special interest are weather events that take place within a 50-kilometer (30-mile) region, and last up to a few hours. These weather phenomena are too big to be observed from one point, but too small to be studied in detail with a traditional network for weather observations. Typical small-scale weather phenomena in Helsinki include sea breeze, fog, snow bands, heat island and thunderstorms. For example, fog is a serious problem for transport on land, water and in the air. Another example is the sea breeze, whose different phases affect the dispersion of air pollution.
The Helsinki Testbed will help in developing and testing new instruments and methods for weather observation. The main focus is on forecasting short-term weather conditions, the use of remote sensing in assessing the type of rain or fog, the observation of temperature inversions and sea breezes, air quality and pollution and its modeling, as well as the development and verification of road weather forecasting models. The testbed will also serve as a platform for experimentation for large development projects, allowing the rigorous testing of scientific theories, new technologies, and improved weather products for end-users. The innovations developed in the process will directly benefit operational weather observation networks and services.
Demo Campaign: The World Championships in Athletics 2005
The activities will concentrate on specific measurement campaigns, organized around chosen research themes. The four month-long campaigns will utilize an already existing, approximately 150 x 150 kilometer (93 x 93 mile) wide observation network, which will be enhanced with a variety of new weather observation equipment. Weather transmitters - measuring temperature, humidity, pressure, rain, as well as wind speed and direction - will be installed on cell phone network base station masts. The number of radiosoundings (so-called 'weather balloons') and laser cloud-height measurements will be increased, and a radar wind profiler system will be in-stalled. Satellite and weather radar data will be integrated into the database.
The measurement data will be available online to the international meteorological community, and information will also be shared with numerous research institutes, universities and companies worldwide. The first tests are scheduled for summer 2005. Among the project partners is the Finnish Athletic Association (Suomen Urheiluliitto ry), which enables the testing of new technology and services in conjunction with the World Championships in Athletics 2005.
The National Technology Agency of Finland (Tekes) is one of the project sponsors.
Further information:
FMI, Project Director Jarkko Koskinen,
Tel +358 50 337 2902
FMI, Project Manager Jani Poutiainen,
Tel +358 50 367 3172
Email addresses: firstname.lastname@fmi.fi
Vaisala Oyj, Project Director Jussi Mykkänen,
Tel +358 9 8949 2207
Vaisala Oyj, Project Manager Heikki Turtiainen,
Tel +358 9 8949 2261
Email addresses: firstname.lastname@vaisala.com